2015
Heading into fall - a great time to visit!
www.murtlecanoes.com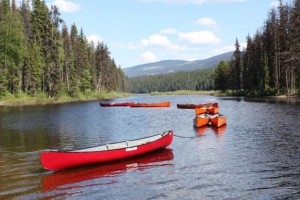 We've seen several off-site canoe rental outfitters come and go. Our customers asked us time and time again for another option in canoe rentals, so finally in 2009 we bowed to their requests and started a rental service of our own. This is a small operation - limited to 18 canoes (Hellman).
We offer premium Hellman canoes from the shore of Murtle Lagoon. Just grab one of our gear carts from the parking lot, load your gear, strap on your backpacks and go! No more roof racks or canoe carts!
Hellman Canoes are hand built in Nelson BC, with Duralite and Duratuff epoxy systems. They are light, fast and track very well - this is a premium canoe that ranks with the top brands in the world according to canoeing magazines.
Some previous experience in a canoe is strongly advised. If you haven't paddled before, Murtle is not the lake to start on.
2015 Canoe Rental Rate:
*minimum 2 day rental required     Please visit www.murtlecanoes.com for full details.
$50/day
Email us to reserve a canoe or check availability
*Rental rates do not include camp site fee.

Click here for instructions on how to pay your camping fees.
Or you may choose to pre-pay your camping fees at Discover Camping Backcountry Registration.
How We Work:
All bookings must be made in advance by email. Why? Because canoes are booked from an office in Clearwater and staff at Murtle Lake need to be notified of new bookings well ahead of time. Note: we are currently switching to an online booking service - we hope to have it up and running by April 2016
You will need to meet our staff at the lagoon to pick up your canoe at the daily prearranged meeting time - 11:00 am. Why? Because we cannot store the canoes at the lagoon or the parking lot, so we bring them out to you from our cabin on the lake for the date and time of your reservation.
You will need to return your canoe at the prearranged return time - 11:00 am. Why? Same reason as 2, we cannot store them there.
Why only one daily meeting time? The folks who deliver your canoe are the same people who look after the campsites and trails on the lake. They need to be out patrolling and maintaining Murtle Lake to keep it clean and safe.
What happens if you are late picking up or returning your canoe? If you are late to pick up your rental we will wait for 30 minutes, then leave. You will still be charged for the full day. And it's possible if you are late to return your rental, the next renter will be tapping their toes at the launch wondering where you are with their cano. Please be considerate of others and return your canoe on time.
If you foresee keeping this meeting schedule being an issue, you may want to consider booking with the Blue River Campground.
Please visit www.murtlecanoes.com for full details.