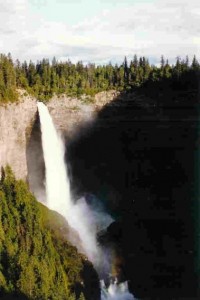 Wells Gray Provincial Park is one of Canada's hidden jewels. One of Wells Gray Park's nicknames is "the Waterfall Park", because of Helmcken, Dawson, Rainbow, Osprey and the other waterfalls that dot the Park. But really, that's just the tip of what there is to experience in Wells Gray.
It's also home to black bears, grizzlies, moose, mountain goats, caribou, wolves, cougar and many other animal species. The fishing is amazing, not just for the quality of the Rainbow trout and salmon, but also for the astonishing beauty of the places you can choose to fish. Anglers come from all over the continent just to fly fish in parts of Wells Gray.
Flora? How do 500 year old cedar trees, alpine meadows carpeted in blooms of every color, and roadways lined with wildflowers sound?
Wells Gray is known for its wide range of natural landscapes; everything from glaciers to moose meadows, ancient cedar forests, extinct volcanoes, and unspoiled lakes, to recent forest fire burns coming back to life.
We want your feedback on your park experience - either from a past visit, or after your next trip.
e-mail us with your comments