There are really two kinds of extreme adventures you can do in the Wells Gray Area; the ones for adrenaline junkies - death defying feats of near stupidity; and the ones for Trekkers - To go where no one, (or almost no one) has gone before.
Probably less than a third of Wells Gray Park sees human access in a year. That leaves about 1400 square miles for those looking for something beyond the boundaries of the average visitor.
Not that you have to go Way Out to get to the more extreme local recreation opportunities. As many a kayaker has discovered, the lower Clearwater River can keep them in thrills and spills for days and is easily accessible from right in town.
Adrenaline Junkies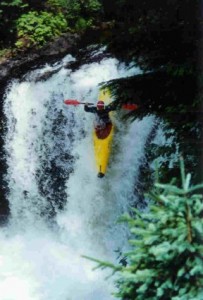 Whitewater kayakers can have about 25 km of world class bumps and bruises, in holes and rapids like "the Wall" the "German Basher" and "Sabretooth"… all known to flip rafts and chew kayaks and their occupants.
You really need to make friends with a local, or buy a hungry raft guide lunch to get that lifesaving local knowledge on this river - seriously! This is not that forgiving Olympic Park waterway or a wave pool. Some wrong left or right turns will possibly kill you. Some river sections are better than a Class 5 and have to be portaged. Scott at Liquid Lifestyles (next to Dairy Queen) is the guy to talk to.
Mountain Bikers
We are really not there yet when it comes to mountain biking, but there is a local informal group trying to get an organized trail system together for the future. We have lots of cross-country ski routes and steep old skidder trails, so the future looks bright.
Rock Climbers
The locals have a few spots… but this ain't no Moab. Dunn Peak gets some local attention, as does an area around Little Fort, but that's about it.
Going Beyond the Beaten Path
Want to see something almost no one has? Want to put your new boots to the blister test? Want to see just how high devil's club can grow or just how bad the mosquitoes can get? Then Wells Gray is your heaven.
Really, there are lots of places you can go in Wells Gray that are off the regular park guides, but I'll just go through a few that are done in an average year by at least one person.
Allow at least 3 full days for most of these:
Hike to, and paddle to, Hobson Lake.


I bet less than a six pack of people do this hike in a year. The trail to Hobson Lake starts in the river channel between Clearwater Lake and Azure Lake. This is Topo map and GPS country, don't go without some form of advanced navigation skills/gear. The trail (not really a trail anymore) is about 13-14 km with a modest elevation gain. There are tricks to doing this trip the easy way:

Abandon any thought you had of portaging your own canoe in, collapsible or otherwise. Clearwater Lake Tours (who can also water taxi you to the Trailhead) foolishly flew a handful of canoes into Hobson Lake some years ago. Take advantage of their foolishness and rent a canoe at the other end for a surprisingly low rate. You will need to pack in a paddle and a PFD.
Go late in the season. The one really dangerous part of this trek is crossing Lickskillet Creek, at about the 8 km mark. In June and July the run off may be too high to cross safely. You will get wet and you will get cold here. You will need a rope and straps and other equipment.

Huntley Col – Garnet Peak Ascent.


Quite a few people hike Huntley Col, trail starts at 4.5 Mile Campsite on Azure Lake (canoe or water taxi to it), but not many actually go all the way and do Garnet Peak as well. Think about it, you get to climb a mountain that looks like the Matterhorn, without flying to either Disneyland or the Alps. Take lots of water! The hitch on this hike comes from a snow slope that melts during the summer. Come early, and with a bit of ice gear, you can walk up it to the summit route. Come later and you'll need climbing gear to get up past the sheer rock face that lies under the melting snow. The view from the top is mind blowing. Find the cairn and sign your name to the short list of people that have made it to the top.


Kostal Lake Route


Kostal Lake is stunning - check out the picture. The problem is getting there, it's hard and it takes time. The route starts at Clearwater Lake Campground. It wouldn't hurt to find campground staff and have them register your name, date in, date out, and next of kin. The route is 24 km one way, goes over lava flows, through forests of devil's club, swampy areas, up switchbacks, and through sometimes hundreds of blowdowns. You need bug dope, a Topo map, good footwear, a compass and/or GPS. If you venture further on to McDougall Lake, or onto any of the local lava flows, you can expect to destroy a new pair of boots on this trek. There is a rough campsite on the lake near the cone. You're on your own for firewood, etc. But considering the number of blowdowns, you should be fine on that. Bring a fishing rod! A casting rod and a bobber might land you something impressive for dinner! The tricks: Start early and stop when it gets dark. You need to do this trek in full daylight as the trail is very easy to lose! People get lost out there on this one, you can't see landmarks from the ground easily, so you get disoriented. A compass and map are essential!


Stevens Lakes

This place gets overlooked all the time. Probably because it's Grizzly country. You can get to it via the Battle Mountain Access, plus a couple of other roads. It has rustic campgrounds on the lakeshore, and the fishing is good.


Whale Lake


The one you can do as a day trip or an overnight. The hike is long—8 km—and starts near Mahood Campground at the Mahood River Bridge. Just to see the colour of the lake is worth the hike. There is a small campsite there that you can camp overnight at as well. Very remote—way off the beaten path.


Battle Mountain


This gets more use than any of the above mentioned areas, but does offer some good back country hiking and camping, notably at Philip Lake. Access road starts near Wells Gray Ranch.


Horseshoe Falls/Majerus Falls


The first part this trail to the Pyramid mountain volcanic cone is maintained, after that you are on your own! This trail is fairly level and your biggest obsticles are blowdown and curious black bears. There is a rustic campsite near Majerus Falls—about 7 or 8 km in. The two falls are spectacular. This is a great overnighter to get away from the crowds.


Hike Murtle Lake


There are lots of great hikes on Murtle Lake, Wavy Range being one. You're already in a remote corner of the park, give up the beach for a day and climb a mountain!